In case I've never mentioned it here before, let me just fill anyone in who may not know.
I am part of a phenomenally awesome facebook group called The Handmade Collective. Guys, I can't even begin to tell you how passionate I am about the creativity and artistry that flows through that group from its members. With all that is displayed and shared there and with all the positive vibrations of love and support that's there, it's beyond me how we haven't conquered the world yet! (Or at least the handmade products arena.) Seriously. When you witness and understand all of the absolutely wonderful, independently made works of art that are produced by the group's members, you will come to realize that this is and has the potential to be even more major.
I'm sure that's coming, but in the meantime, I thought I'd use this week's blog post to highlight work of artisans from The Handmade Collective. If I were to share all the wonderful creations that I want to here, this post would go on for daaays! Instead, I'll give you just a few of those that got an immediate *gasp* outta me when my eyes first met with their exquisiteness. Be aware that this is nowhere near all of them!
**********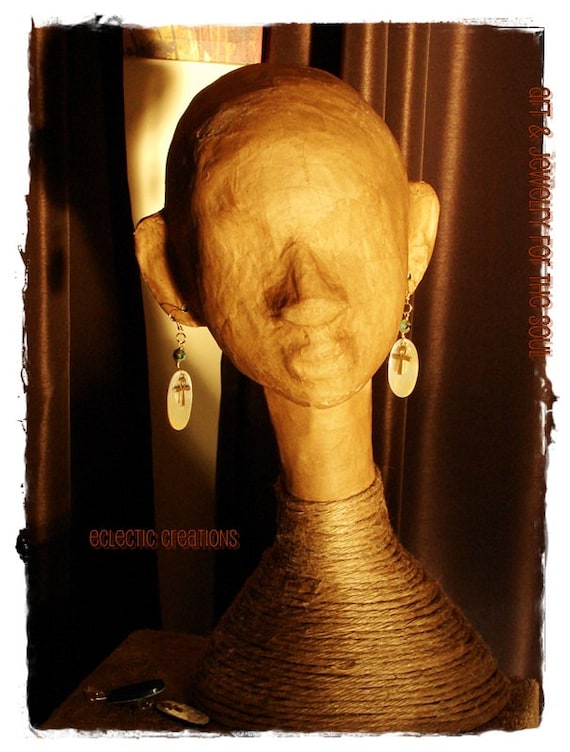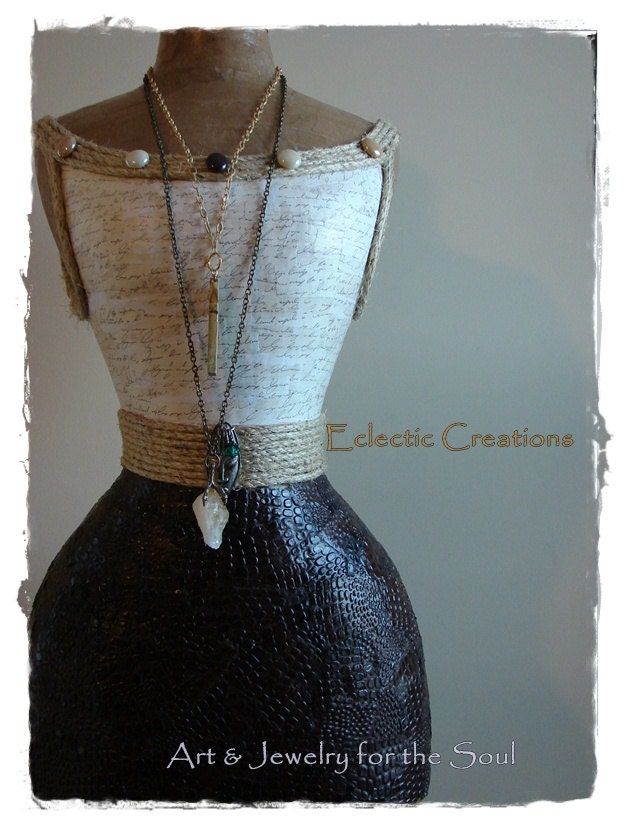 In addition to some wonderful jewelry and painted/carved art pieces (of which I'm glad to be a proud owner!), Mingz now offers beautiful papier mache display pieces. These beat those generic plastic display heads and busts any day! I'd like to get a couple just to put around the house. And whenever I open my boutique (yes...that is on my mind!), these would no doubt be part of the decor. They.are.STUNNING!!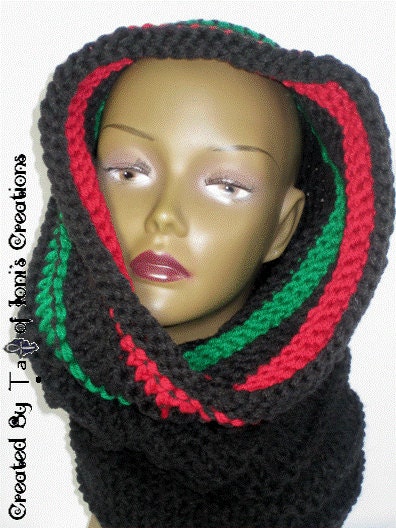 RBG Snood/Cowl with Ridges
Turquoise and Multi Angular Cowrie Hat
by
Ta Ankh of Ioni's Creations
I didn't even realize I was a hat person until I learned about Ion's Creations. The things that Patricia Heath (AKA Ta Ankh) can do with a crochet hook and some yarn absolutely blows my mind! Her artistry in the skill of crochet is unlike any I was aware of before seeing her work. I mean...look at that hat! (Click the link for different views.) And that RBG snood is a piece that I've GOT to get my hands on! I'm all into scarves wrapped around my head/neck, hoods, snoods, fabric thrown over/around my body, etc., so that cowl is right up my alley.
Crochet Multi Functional Tote/Clutch Bag
by
IniVibez
I really like the creative and personal style of crochet garment and accessory designer Aisha Joseph, the visionary force behind this label. Multifunctionality--whether in clothing or accessories--always appeals to me, so when I first saw this shape-shifting bag my immediate response was, "Yes, yes, yes!" In addition to it's diversity, the color combination as well as the circular hardware detail make for an overall funky, eye-catching design! It can be carried as pictured or flipped inside out fora switch up to a lovely shade of blue and african print inserts. Perfection!
Royal Cowrie Barefoot Sandals and Matching Earrings
by
Native Style Beadery
Oh my. Where do I begin?
I don't think I even had an understanding of what an earcuff was until I found Ayida Honor and her line of hand-beaded adornments. This sister's work is perfectly divine, and there's not too much I can really *say* about it. Not only does her beaded pieces move me in a certain special kind of way, so does the various other offerings that she, her husband, and the entire Honor Family (5 beautiful children!) bring forth. If you're not already in the know, be informed that this powerhouse couple--
Ayida and Lenon Honor
--gives us various useful gifts in the form of a plant-based
cookbook
, consultations on relationships and life in general, lectures, articles, videos, music, and the list goes on! Each Sunday evening they host a program called
Positive Relationships with Ayida and Lenon Honor
where they hold discussions on every subject from raising children to naturing a healthy relationship with your mate. I do my best to tune in every week just to the be the beneficiary of their fantastic inspiration,and you should, too! :-)
I'm one who has a thing for asymmetry and unevenness in certain aspects. (Take my ear piercings for example. I've got one hole in the left ear and three in the right. I'm just happier that way!) Since that's the case, these spoke to me immediately. Not only am I an love with the fact that they're mismatched, the various colors of which these beauties are made allow them to be very versatile in the types of garments they can be paired with. When I get these...and I will..I know they're going to instantly be my most favorite pair of earrings to wear! People will be like, "Daaaaang! She wears those earrings with EVERYTHING!" Yep!
Dabanga's jewelry line is original, fresh, elegant, funky, and majestic all at once. I could not have been more pleased than when I first caught sight of her work!
**********
As previously mentioned, these are only a few of the artists and pieces that make up the wonderful Handmade Collective. Please take the time to view this wonderfully put together look book in order to learn more about the artists of the group.
Much like this blog post, the look book does not feature all of our great artisans, but it's definitely a must see for all those seeking to support handmade work and fir everyone in general. (At the back of the document you'll find links to several other artists.)
Thanks for reading, and SUPPORT HANDMADE!
peace!
:-)